Automatic Maintenance Bypass
C&C Power offers Maintenance Bypass Breaker Cabinets available in multiple configurations. The Automatic Maintenance Bypass has an innovative design that eliminates user error through a microprocessor logic-driven controller. The added logic enhances the safety of the system while also ensuring the critical load stays up.
The system deploys the C&C Power touch screen HMI giving the unit a user-friendly interface for control and system status. Network communication through SNMP, Modbus, and HTTP will give the user the ability to view the bypass status with an option to control the system remotely.
This maintenance bypass has a three breaker design and shown here with an optional load bank breaker and distribution cabinet. The load bank breaker can be added separately in an adjacent cabinet. This automatic interface is an option for any freestanding UPS maintenance bypass. Safeguarding your critical facility with a streamlined approach eliminates the human error found in manually switching breakers.
Let us help you design the ideal system for your specifications. C&C Power warehouses all maintenance bypass options, therefore, making our lead-time the quickest in the industry. Visit our online store to see options in freestanding bypass cabinets and the automatic bypass security feature. Contact our support team with questions on installation, service, and preventative maintenance on any UPS maintenance bypass system.
Patented
Graphic display
Three breaker design
Optional load bank breaker
Automated mode transition
Faulty states detection & mitigation
Option for any freestanding bypass
Multiple system configurations
Inverter inhibit signal
SNMP / Modbus for breaker status
Optional HTTP for remote control & status
Please
login
to view downloads.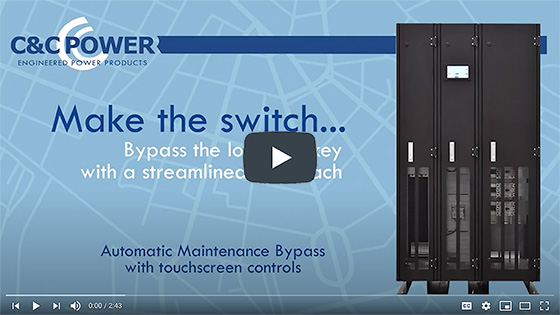 Please
login
to view video