Make the switch! Bypass the lock and key with a streamlined approach. C&C Power is excited to announce its latest innovation in power solutions. The Automatic Maintenance Bypass system includes patent-pending technology to safely and securely operate your uninterrupted power supply. This technology sets it apart and eliminates the human variable which ensures safe operation preventing damage to the equipment and serious injury to the operator.
Microprocessor Controller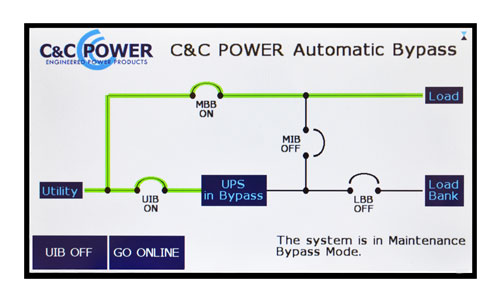 This bypass breaker cabinet has an innovative design that eliminates user error through a microprocessor logic-driven controller. The added logic enhances the safety of the system while also ensuring the critical load stays up.
Existing bypass systems have printed procedures for the user to follow. Some are augmented by a keylock system. Even with the keylock system, it is still relying on the user to faithfully follow the procedure. A single mistake may cause the load to lose the power or damage the equipment. The Automatic Maintenance Bypass System is designed to minimize the user error using a microcontroller to perform certain steps of the procedure and guide the user to carry out the other steps.
Touch Screen Display
The system deploys the C&C Power touch screen HMI giving the unit a user-friendly interface for control and system status. The graphic display allows the maintenance team to visually navigate from utility power to bypass mode with ease.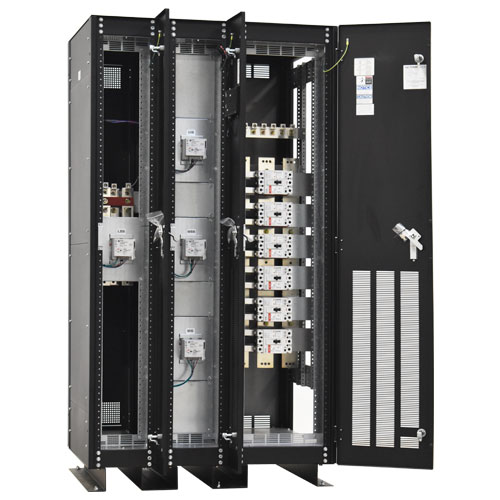 The user initiates the transition between Normal Operation and Maintenance Bypass by the input button of the user interface. The controller actuates the breaker motors to put the breaker in the proper state during the transition. When user actions are required (for example, to put the UPS online or in bypass), the controller will halt the transition and display the required user procedure in the message box. The user will then need to complete the step before resuming the procedure.
HTTP Connection
An optional HTTP connection is available for remote control and status monitoring. As a result, network communication will give the user the ability to view the bypass status for any location with an option to control the system remotely for added security. This feature gives the facilities manager piece of mind and immediate access.
Multiple Configurations
This ups maintenance bypass has a three breaker design with an optional load bank breaker. It is available for any C&C Power freestanding UPS maintenance bypass. Features include options for voltage, amperage, cabinet color, and AIC rating. Each cabinet is welded with heavy-gauge steel construction and has a hinged locking front door. It comes fully assembled and tested from the factory. C&C Power warehouses all maintenance bypass options, therefore, making your lead-time the quickest in the industry.
The Automatic Maintenance Bypass is an ideal solution across all industries. Safeguarding your critical data with a streamlined approach eliminates the human error found in manually switching breakers. To view product specifications and receive a quote, please view the product page or contact us with questions.