C&C Power identified that it was on a burning ERP platform that was getting in the way of being able to make essential business changes. With much research and hours of execution and training, the IFS ERP is now fully implemented.
We manufacture, install, and service battery systems, UPS peripherals, switchgear, and telecommunications equipment used in data centers and other critical power applications around the world. Therefore providing the essential infrastructure that must operate 24/7 to its demanding customer base which includes fortune 100 companies along with data centers, telecommunication companies, and government agencies.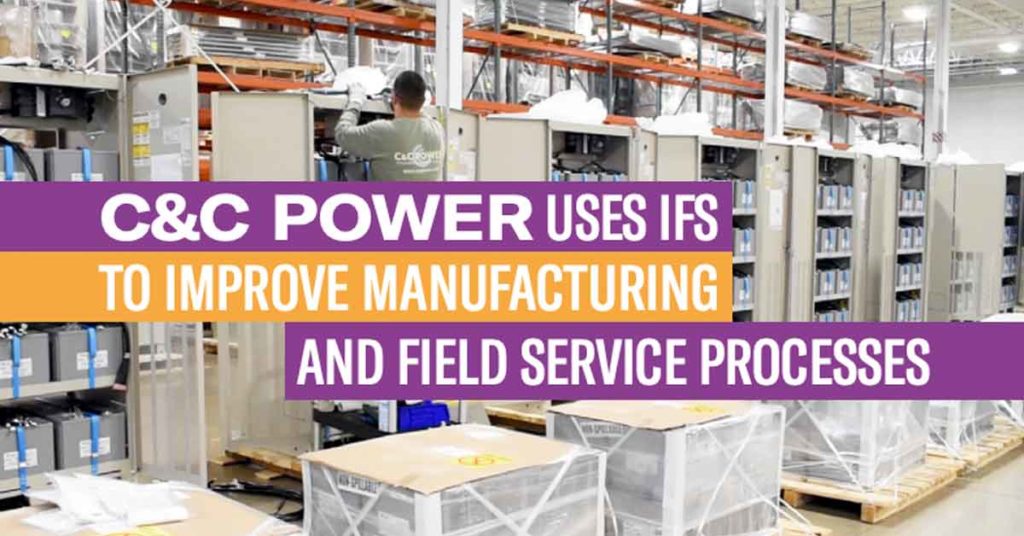 In addition, we are an engineer-to-order and configure-to-order manufacturer. We also provide aftermarket service for backup power products such as battery cabinets or battery racks, UPS systems and maintenance bypasses. Other products include landing boxes, battery monitoring, telecom, commander plus controllers, and integrated distribution systems.
Since 2019, we have been working hard to reduce order turn time and complete battery replacements and other field service work with our internal team of technicians and external contractors. We found ourselves on a burning enterprise resource planning (ERP) software platform. It was supplemented by third-party report writing and quality management software. A change was definitely needed!
Our forecasts were limited and typically only project-based with configuration changes. Our low volume, high-mix, highly configured products are specific to each customer. Customers still expect fast turn times, due in part to customer specification approvals, lean supply chains, and expect quick delivery. So, we needed an ERP system to help us better plan inventory, labor, and accommodate customer changes.
IFS ERP
An extensive search for the right ERP was underway and a final decision was made to proceed with IFS. We want to be able to provide excellent customer service, ship quality products, and make sure we have uninterrupted access to the system. The IFS MRP functionality was up to the challenge.
The new IFS ERP is much more efficient at handling midstream changes, the system has also enabled C&C Power, Inc. to reduce the cost of the average change order by several percentage points. We are relying on the service management functionality in their IFS ERP solution to increase technician utilization rate and improve the customer experience on annual maintenance contracts, warranty work, battery change-outs, and break-fix repair.
With the IFS ERP solution and its MRP capabilities now in place, we were able to address efficiency across manufacturing and field service operations. The benefits are already being felt by employees and customers alike. Operations are now streamlined to help the company address issues quicker and significantly improve the customer experience.